"Jump First, Fear Later!"
On April 1, 2000 a small group of us sat in the living room of 4A, Jalan Utara to begin the unforgettable journey of 'resurrecting' Bangsar Lutheran Church (BLC), growing as a Christian community in Kuala Lumpur, and learning (or re-learning) previous lessons along the way.

The pioneers of the renewed BLC were young (mostly below 35) and inexperienced (no one planted a church before). The Lutheran Church in Malaysia (LCM) provided the building at 23, Jalan Abdullah, Bangsar; gave initial funds for renovation; and supported the pastors' basic salary and housing for a little above 3 years.

Like a newborn baby, this was the needed support before BLC could stand and walk on her own later.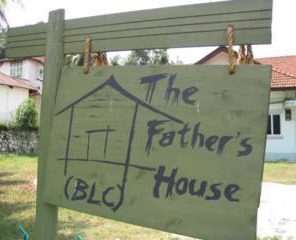 23, Jalan Abdullah, before renovations in 2000.
The building that Bangsar Lutheran Church is housed in is fondly called "The Father's House", a reference to Jesus' saying in John 14:1-4:
"Don't let your hearts be troubled. Trust in God, and trust also in me. There is more than enough room in my Father's home. If this were not so, would I have told you that I am going to prepare a place for you? When everything is ready, I will come and get you, so that you will always be with me where I am. And you know the way to where I am going."
When we started in 2000, the premises still had 4 rooms next to the main hall. Each room had some nice names like, the "Thinking Room" for the office; the "Learning Room" for the library, and the "Growing Room", for the nursing mothers' room. It also gave us a chance to tell newcomers, "There's always room… for you." It provided an environment and culture that felt more like family, welcoming like a home, rather than that of a school, battle station or even a cold centre. It further allowed us to make a distinction between the Church as the people of BLC, and the 'church' as a place or building. In 2009-2010, BLC went through a second major renovation to expand our worship space. The renovations were designed to accommodate the growing number of BLC Family members and to allow for a more conducive community space.
Different people have been and are still part of the BLC community. In the early days, you would see mostly Chinese looking faces. But, in God's own timing and wisdom, He added a healthy mix of Indians, Australians, Europeans and Americans (and occasionally African!) to diversify and beautify our common life together. Each brings a uniqueness of their original culture to enrich a new culture within the church where Christ has indeed broken down every wall. While "unity in diversity" is in danger of becoming an empty slogan these days, we continue to work at remaining faithful to the Gospel of Jesus Christ and to seek unity even in the midst of our individual uniqueness.
For us, it starts with the church being a "safe space" for different people to come together and to see the "breaking down" of divisive and discriminating walls. Then, when each of us receives the bread and the wine, and participates in the Holy Communion together, Christ's real presence becomes the origin and resource for our unity.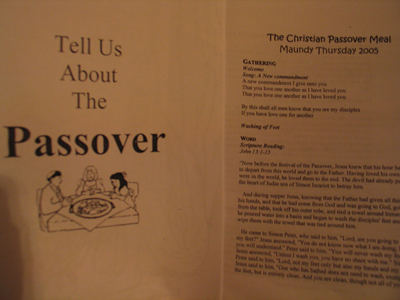 Rediscovering Ancient Paths
As a growing faith community, we rediscovered resources like the church liturgical year and the Revised Common Lectionary, practices like Stations of the Cross and the Maundy Thursday meal, as well as reappropriating insights from the Lutheran tradition especially during the Catechism classes. These became ways in which God's real presence is worked out in our thinking, worshipping and living.
We adapted versions of the Stations of the Cross during Holy Week a number of times – where different rooms in the building were transformed into creative stations by small groups to help people meditate on Christ's journey to the cross and anticipated resurrection. The church premises was transformed into a museum-like environment where through the arts, music and silence, we could encounter God out of the regular ways we are familiar with.
We have even had a pancake party for Shrove Tuesday, introduced by the British family who had been worshipping with us for many years, and the full Maundy Thursday meal where we see the connection between the Old Testament Passover Meal with the Lord's Supper. Organizing and participating in these events helped bring community life to the surface.
Life Together As A Family
As the church grew, we continued to trust in the leading of God's spirit, and the mutual affirmation and correction of the Christian community. Practically, this is experienced right from the small groups to the yearly congregation general meeting, together with the council meetings and committee meetings in between.
Our fellowship is self-admittedly a very messy bunch. For example, our children and youth are a real part of our worship services and fellowship life. And because they were a real part of our church life, it was easier for them to become a real part of our own lives.
At BLC, we firmly believe that people are more than numbers. People have names, personal stories, problems and possibilities. As a community, we are reminded that we are saints and sinners at the same time; we are always in a position in need for God's grace. More so, as a community, we become Christ to each other – loving and serving each other by supporting, praying and blessing one another.
Reaching Beyond Ourselves
For outreach, BLC has relationships with a number of organisations such as Seminari Theoloji Malaysia (STM); United Voice, a self-advocacy organization for people with learning disabilities; among others.
BLC also works with a number of ministries within the LCMS (for example, the companionship program with the Orang Asli congregations) as well as the KL District.
BLC also learnt precious lessons when we were able to cooperate even with non-governmental organizations like Protect and Save The Children on a common issue of concern, such as 'child abuse' and faith inspired organizations like Friends in Conversation on a variety of social and theological topics.
Channeling our time, energy and also money to support existing work – good work – has been most rewarding and fulfilling for us too. We are able to see how our collaboration with others truly extends the interests of the Kingdom of God more than our own local church.
Today, BLC has grown since our inception in the year 2000 and has seen tthree pastoral transitions. Members are being added and ministries are being explored. Even so, increasingly as the seasons and times change, all of us as individuals and clusters of individuals are still learning what it means to be a resource or catalyst for spiritual and social change in society.
The key question is, "What do we prayerfully discern what God wants us to do in this time and in this place?" We must be ready for mistakes or failed experiments, to correct ourselves along the way, sharpen our strategies and have a healthy humility to learn along the way. When we are confident in God's grace that not only accepts us as we are, but also guides us in our growth, we press on without fear but in faith. Faith always involves risk.
After all, one of the catchphrases in the BLC family is "Jump first, fear later!"
Adapted from "Confession of a former church planter and pastor in the city of Kuala Lumpur" by Rev. Sivin Kit, founding pastor of Bangsar Lutheran Church.